As a member of the Mitsubishi Chemical Group, we conduct procurement activities based on "the Mitsubishi Chemical Group Charter of Corporate Behavior[Open in a new window]" for aiming to achieve KAITEKI, an original concept of the Mitsubishi Chemical Group. We promote and reinforce procurement activities to fulfill our corporate social responsibilities not only in our group but also an entire supply chain with our business partners.
Basic Procurement Policy
1. Fairness, Equitability and Transparency
We conduct procurement activities in a fair, equitable and transparent manner. We are aware of the importance of accountability for our procurement activities and disclose relevant information as appropriate.
We select suppliers based on comprehensive evaluations using appropriate criteria in the areas of cost competitiveness, technical skill and corporate stance (compliance with laws and social norms, environmental consideration, respect for human rights, etc.). We maintain a posture of openness in procurement to all companies in Japan and abroad.
2. Partnerships and Mutually Beneficial Relationships
Based on the recognition that all our suppliers are our partners in business, we strive to enhance mutual understanding and build relationships of mutual trust while striving to carry out procurement activities that advance mutual business development.
3. Compliance with Laws and Regulations
In procurement activities, we comply with social norms and the letter and spirit of applicable laws and regulations.
4. CSR Procurement
Constantly keeping the spirit of corporate social responsibility in mind, we conduct sustainable procurement activities with due consideration given to resource protection, environmental conservation, safety, human rights and other such factors.
Toward Promotion of CSR Procurement (Sustainable Procurement)
We believe that to establish mutual trust-based partnership and to act on entire supply chain bases are very important, and furthermore, it is essential to have suppliers' cooperation on procurement activities.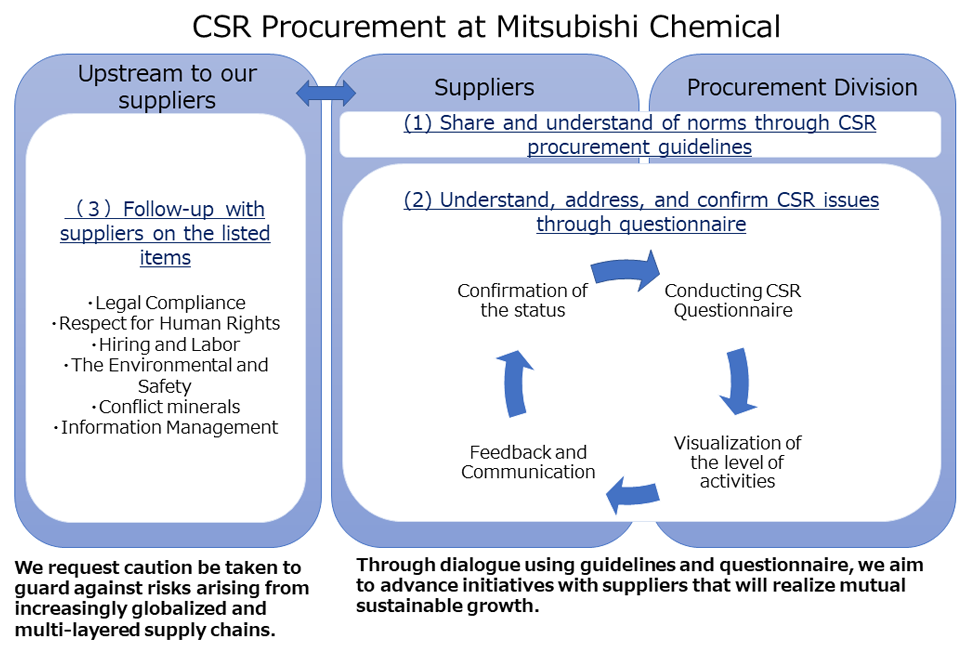 Request for Suppliers
Developing Cooperative Business Practices with Suppliers and Business Partner(Guidebook)
1. Awareness and Responsibility
Based on the fundamental understanding that the foundation of corporate activities should be built on trust of the society, be aware of one's corporate social responsibility and seek to build a better relationship with the human race, the society, and the global environment through the business of each party.
2. Accountability and Transparency
Recognize the importance of accountability in corporate activities, preserve transparency in such activities, disclose information appropriately, and always maintain a stance of openness, both internally and externally.
3. Legal Compliance and Fairness, Equitability, and Integrity
Always comply with laws and international standards, and ensure fair, equitable and sincere treatment of stakeholders and employees. This attitude shall also apply to dealings among employees.
4. Valuing Stakeholders
Respect and communicate closely with all stakeholders including customers, suppliers, shareholders, business partners, government agencies, local communities, and employees, and consider the outcomes of such communication in corporate activities.
5. Respect for Human Rights
Respect the dignity and rights of all people, and shall not discriminate against people unfairly based on any reason whatsoever.
6. Employment and Labor
Prevent engage in any form of forced, compulsory, or child labor. Managements at all levels shall respect human diversity and create working environments where employees can exercise their abilities to the utmost in safe and healthy settings, in order to make optimal use of human resources. Managements shall build sound relations with its employees through close dialogue, and shall respect employees' rights, including freedom of association and the right to collective bargaining.
7. Environment and Safety
Strive to reduce environmental impact and protect the environment and ecosystems in its operations, in addition to supplying environmentally friendly products and services. Recognizing that the health and safety of its employees and communities in which the company do business form the foundation for the very existence of the company and that it has a corporate social responsibility to assure the health and safety of others, it shall continue to ensure safe business activities.
8. Fair Business Practices
Conduct business fairly and sincerely, adhering to ethical principles and refraining from unfair trade practices and any form of bribery or corruption, to contribute to sound social and economic development through fair competition in the market.
Handle any approaches from anti-social forces and groups (such as organized criminals or organizations subject to government-mandated business restrictions) in a determined manner and refuse to have any business relationship with them.
9. Customer Satisfaction
Constantly strive to satisfy the company's customers by keeping the promises made in contracts with them, doing its utmost to ensure the safety and quality of the products and services it supply, and engaging in dialogue and R&D.
10. Information Management
In the course of the company's corporate activities, maintain appropriate records and make reports as required by law and regulation. The company shall manage information carefully to prevent leakage of confidential data relating to customers, business partners, or its own business.
11. Science and Technology
Recognize the importance of the company's own and others' intellectual property rights and respect such rights.
12. Community Involvement
Contribute broadly to society through our businesses. In addition, the company shall respond to the desires and expectations of local communities by enhancing our understanding of their cultures and customs and acting as a good corporate citizen.
13. Sharing Standards
Recognize that the suppliers and other firms with which you do business are your important partners, and willingly disclose and share business philosophies and codes of conduct with each other to deepen mutual understanding.
Establish CSR procurement guideline and share with suppliers
As a tool for promoting CSR procurement (sustainable procurement) based on our procurement policy, we have created the CSR Procurement Guideline, which summarize the corporate activity concepts of Mitsubishi Chemical and its group companies and our requests to our suppliers.
We have summarized our norm in below to share with our suppliers, and for the better understanding, we also prepared the "Guidebook"[Open in a new window] to explain the details of our norm. The Guidebook could be downloaded from the link attached on the bottom of this page.
Through CSR questionnaire Promoting CSR procurement
With our raw materials suppliers, we confirm the status of their initiatives through CSR questionnaires. The results of the survey are fed back to suppliers, leading to dialogues in order to improve individual issues. We hope to foster a healthy relationship between suppliers and MCC as business partners and build a relationship that enables mutual growth and improvement. (Click here)
Responsible Mineral Procurement
In conflict and high-risk areas of the world, profits from mineral mining and trade are used to finance armed groups and rebel groups. The use of minerals from such areas can contribute to conflict, human rights abuses, and environmental destruction. Recognizing that these mineral issues are important social issues, we have formulated the the "Mitsubishi Chemical and its Group Companies Responsible Mineral Procurement Policy" based on our basic policy of not procuring minerals that are clearly involved in conflicts or human rights abuses in conflict zones or high-risk areas. Based on this policy, we will work to promote sustainable and responsible mineral procurement throughout our supply chain.
Internal Training
Mitsubishi Chemical(MCC) believes that human resource development is important for the promotion of purchasing and procurement that take into account CSR-related considerations.
Procurement and Logistics Division hold the KAITEKI Promotion Conference for their employees twice a year to teach about and explain CSR.
We provide training on the tenets of the Basic Procurement Policy (namely, Fairness, Equitability and Transparency; Partnerships and Mutually Beneficial Relationships; Compliance with Laws and Regulations; and CSR Procurement) for new recruits or transferees assigned to the Purchasing Department.
In addition, we encourage junior employees to acquire Certified Procurement Professional (CPP)*1 certification as a way of improving individuals' skills on an ongoing and systematic basis. As social concern regarding CSR procurement grows, we will continue to focus efforts on human resource development in this area.(Click here)
*1
Certified Procurement Professional (CPP): A privately operated system of certification by the All Japan Federation of Management Organizations. The certification is granted to individuals involved in corporate purchasing and procurement who possess sufficient specialized knowledge in the field of purchasing and procurement.
Declaration of Partnership Building
MCC published a Declaration of Partnership Building in April 2021 in agreement with the objectives of the Council on Promoting Partnership Building for Cultivating the Future. This council comprises the Chairman of the Keidanren, Chairman of the Japan Chamber of Commerce and Industry and President of the Japanese Trade Union Confederation as well as related government ministers (from the Cabinet Office, Ministry of Economy, Trade and Industry, Ministry of Health, Labor and Welfare, Ministry of Agriculture, Forestry and Fisheries and Ministry of Land, Infrastructure, Transport and Tourism). By working with business partners in our supply chain and value-creating businesses to foster mutually beneficial relationships, we aim to build new partnerships.
Compliance with the Act against Delay in Payment of Subcontract Proceeds, Etc. (the "Subcontract Act")
To maintain sound relationships with its business partners, MCC has clarified a system for ensuring compliance with the Subcontract Act and established internal rules, including the Subcontract Act Compliance Regulations, which indicate the specific scope of application and compliance requirements of the Subcontract Act. To ensure that transactions are conducted pursuant to such internal rules, MCC periodically implements internal training and audits of related departments.
Results of CSR questionnaire in FY2021 and FY2022
Initiative
Achievement
Sending CSR questionnaires to major suppliers of raw materials
Percentage of actual purchase amount among target suppliers: 90%
Visualization of the level of activities
Evaluation rate of suppliers who have collected questionnaires: 100%
Sending feedback letter on questionnaire results
Percentage of feedback letter sent to suppliers: 100%
Holding CSR Procurement Seminars
Participation rate of target companies in FY2021: 100%
Confirmation of the status of initiatives through individual interviews.
Implementation rate of target companies in FY2021: 94%.
*Some interviews not held due to COVID-19 concerns
FY2021 and FY2022 Internal training results
Item
Results
Training for new and mid-career employees
Target: New and mid-career employees of the head office procurement division
Topics: Various basic training in accordance with procurement policy
Period: With proper timing
KAITEKI Promotion Conference
Target: Procurement and Logistics Division
Topics: Compliance, and other CSR-related information
Period: Twice a year
End of Notes
About your proposal

Inquiries[Open in a new window]

For your raw materials/equipment proposal to MCC, please contact through the inquiry form and write the products or Business segments which you hope to be involved.