Acrylic Film
ACRYPLEN™
Mitsubishi Chemical Corporation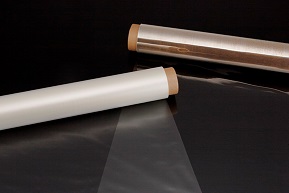 We have been engaged since 1975 in the development, manufacture, and sale of acrylic (PMMA) films through a combination of our unique in-house polymer design and thin film forming technologies.
ACRYPLEN (acrylic film) features the excellent transparency, weatherability, suitability for heat-molding and lamination processing. In addition, it has outstanding UV protection, making it ideal for use as a construction material, a paint-alternative, and a retro reflective material, as well as for a wide range of applications in the field of optical engineering.
Mitsubishi Chemical is a pioneer in the development of acrylic films, and the Company's lineup encompasses products with a wide variety of thicknesses, widths, and differing degrees of flexibility/rigidity.
Characteristics of ACRYPLEN (acrylic film)
[Close]
High transparency
ACRYPLEN (acrylic film) has superior optical qualities, being one of the most transparent acrylic film yet developed, with a total transmission of 93% as well as a low Haze value.
Superior weatherability
ACRYPLEN (acrylic film) is not only proud of the excellent weatherability, it protects substrate by blocking UV ray being laminated on varies of other plastics.
Effect of Increasing Weather Resistance with ACRYPLEN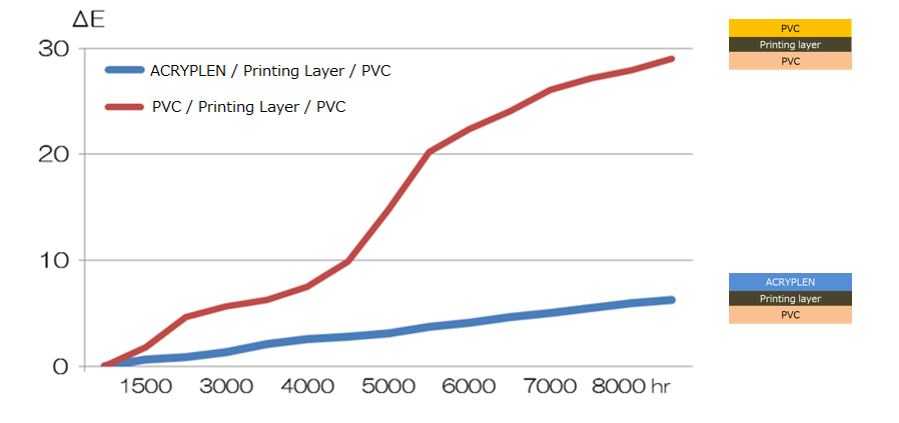 Easy processing
ACRYPLEN (acrylic film) can be used for the heat lamination of plastic sheets and films made primarily of polycarbonates, polyvinyl chloride (PVC), and acrylonitrile butadiene styrene (ABS) resins. All these sheets and films can be processed in various ways, including vacuum molding and the wrapping process.
ACRYPLEN's excellent heat moldability makes it perfect for both in-mold lamination and film insert molding.
Construction materials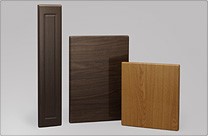 Used as the top film in film-laminated construction materials such as PVC decorative sheet, ACRYPLEN (acrylic film) prevents discoloring and deterioration of the underlying material thanks to its UV-protection capability, thereby prolonging the life of exterior materials. Where required, the use of Mitsubishi Chemical's proprietary matte-finished film gives the material serenity and an appealing design.
The range of applications for ACRYPLEN(acrylic film) is extremely wide, covering garden furniture, plastic imitation bamboo fences, corrugated plastic panels, window frames, front doors, and so on.
Recommended grades: HBS006H, HBS027 (matte finish), FBS007 (fluorine / acrylic)
Paint alternative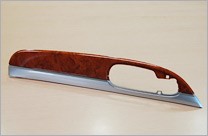 ACRYPLEN(acrylic film)'s high transparency makes it perfect for use as a laminate on molded plastic materials, and it is particularly suited to cases where an attractive appearance is important. By using film insert (injection) molding process, customers can retain completely paint like finish on their product without painting process which possibly causes environmental problem.
As a paint-alternative, ACRYPLEN (acrylic film) boasts a surface hardness on the pencil hardness scale, a superior surface smoothness making it suitable for printing, and excellent heat moldability. Thanks to these qualities, ACRYPLEN (acrylic film) is ideal for use as a top laminate for vehicle interiors and exteriors, consumer electronics, telecommunications equipment, and bathroom fittings.
Recommended grades: HBA007P (easy molding grade), HBS010P (molding whitening-resistant grade),FBA015(molding whitening-resistant grade, fluorine/acrylic)
Retro-reflective material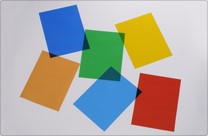 Thanks to its excellent weatherability and colorability, ACRYPLEN (acrylic film) is also highly suitable for use as a high-luminance, reflective cover film for retro-reflective materials for traffic signs. Recently, because of its ability to protect glossy coloring, it has been in popular use as an inkjet print overlay for external advertising displays (shop signs and so on).
Lineup / Specifications of ACRYPLEN (acrylic film)
[Close]
ACRYPLEN General Properties

These data described below are typical properties, not for specifications.
MCC internal method with reference to ISO or JIS.

Features
Soft Type
Transparency Weatherability
Soft Type
Transparency Weatherability matte
Soft Type
PMMA/PVDF
Hard Type
Whitening resistance
Hard Type
Whitening resistance
Easy Molding type
Hard Type
Whitening resistance
PMMA/PVDF
Item
Method
Unit
HBS006H
(53µ)
HBS027
(50µ)
FBS007
(50µ)
HBS010P
(75µ)
HBA007P
(75µ)
FBA015
(75µ)
Optical Properties
Total transmittance
MCC Internal
(JIS K7361-1)
%
92.6
91.4
93.3
92.5
92.5
93.1
Haze
MCC Internal
(JIS K7136)
%
0.9
55.7
6.8
0.5
0.7
0.6
Gloss
(Surface/Back)
MCC Internal
(ISO 2813)
(JIS Z8741)
%
-
(14.0/20.2)
-
-
-
-
Mechanical Properties
Heat shrinkage
MCC Internal
(100℃,10min)
%
MD
11.4
14.0
0.8
2.1
3.8
0.7
TD
-1.1
-2.1
0.4
0.9
1.7
0.6
Tg(DSC)
MCC Internal
℃
90
90
-
100
92
-
Tensile strength (yield)
MCC Internal
(ISO 527-3)
(JIS K7127)
MPa
MD
34
36
35
50
39
46
TD
33
34
35
50
39
46
Elongation
MCC Internal
(ISO 527-3)
(JIS K7127)
%
MD
138
122
155
76
142
116
TD
160
155
167
58
112
95
Chemical resistance (MCC Internal)
Acid(0.1N H2SO4)
Stable
Stable
Stable
Stable
Stable
Stable
Alkali(0.1N NaOH)
Stable
Stable
Stable
Stable
Stable
Stable
Petroleum Chemicals
Acetone, Ethyl Acetate
Dissolved
Dissolved
Stable
Dissolved
Dissolved
Liquid mark
Methanol
Liquid mark
Liquid mark
Stable
Liquid mark
Liquid mark
Stable
Inquiries Concerning Products
---
Industrial Medical Films Sales Gr.
Industrials & Medical Films Dept.
Mitsubishi Chemical Corporation
View the products of Industrials & Medical Films , Mitsubishi Chemical[Open in a new window]