Plastic film-metal sheet composite coil
ALSET™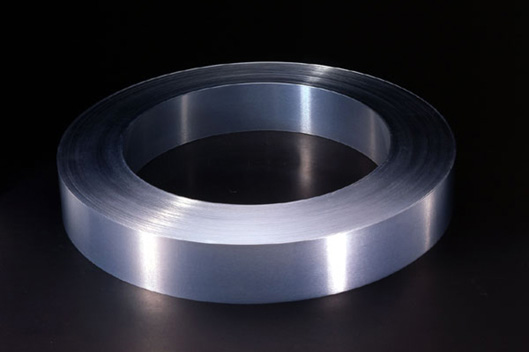 Possesses strong adhesively because of special adhesion method. It makes a metallic material suitable for deep drawing.
Features
Applications
"Deep extrusion type"
has outstanding final shape

Deep extrusion possible
Film maintains adhesion
Non-conductive

Capacitor cases
Li-ion battery cases
Aerosol can caps

"Heat fusion type"
combined metal and plastic molding

Uniting by metal insert moulding is possible
Processing the underside of the metal is unnecessary

PCs
Mobile phones/Smart phones
Automobiles

"Low friction type"
has excellent smoothness

Low friction
Low noise
Wear resistant
Water resistant
Chemical resistant

Slide rails
Medical equipment
Industrial equipment

"Fluoric lamination type"
uses a characteristic of fluorine

Not facky
Dint resistant
Heat resistant
Chemical resistant
Wear resistant
Water repellent
Electret

CD trays
ECM
For outdoor use
Inquiries Concerning Products
---
Process Functional Materials Group, Industrial & Medical Films Dept.
View the products of Industrial & Medical Films Dept.[Open in a new window]