Silane crosslinkable polyolefin
LINKLON™
Mitsubishi Chemical Corporation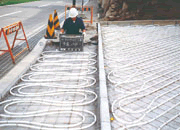 LINKLON™ is a silane crosslinkable polyolefin based resin. The post crosslinking reaction drastically boost the material performance in terms of heat resistance and creep behavior at elevated temperature.
PHYSICAL CHEMICAL
CHEMICAL INERTNESS
DESIGN ENGINEERING

Heat ageing resistance
High Strength-Creep-Abrasion resistance
Elastic/shape recovery

Foamable
Bonding to glass
Floor heating pipes
Water / hot-water supply pipes
Electric wire insulation
Solar cell encapsulation
Cushioning
Foamed profiles, sheet ...
Inquiries Concerning Products
---
Mitsubishi Chemical Corporation

Performance Polymers Unit
View the products of Performance Polymers Unit, Mitsubishi Chemical[Open in a new window]