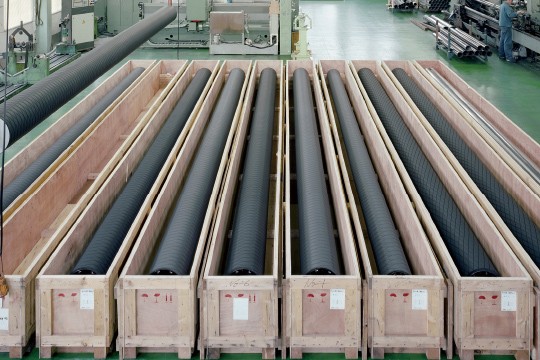 Roller (CARBOLEADER

®

)
CARBOLEADER® is a carbon roller that simultaneously offers light weight, high rigidity, and a high critical speed. It is used for a wide range of applications, including separators for rechargeable batteries, for optical applications and all kinds of films, for printing, and paper manufacture. It can significantly increase productivity and reduce costs by improving production quality and speed, and reducing defect rates.
Features
High versatility by enabling the same surface processing and treatment as conventional metal rolls
Chromium plating (surface metalization by clad processing)
Various rubber lining treatments
Ceramic thermal spraying
Micron-level roller rotation precision
Offers an unprecedented level of precision for "small diameter × long length × high speed rotation" rolls
that have always been especially difficult
High temperature resistance grade
Inhibits unbalanced thermal expansion at high temperatures
No degradation of bearings or rigidity observed after long usage, especially after repeated rewinding of the roll rubber lining

Applications
Rolls for coaters and laminators
Rolls for separators
Rolls for manufacturing film, nonwoven fabric, and metal foil
Rubber-lined rolls for slitter, rolls with lower blade groove, winding core,
and low deflection double-tube contact rolls
Rubbing rolls for glass substrate processing
Rolls for printing machines
Low deflection double-tube nip rolls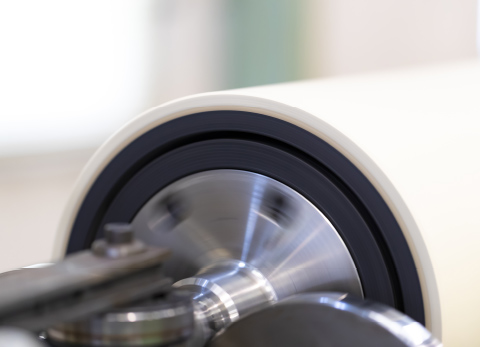 Product Lineup
Based on your design drawings and requested mechanical properties,
we perform rigidity and strength calculations with composite materials to
offer custom-made products that are optimized for your performance requirements and sizes.
Please contact us to begin.
Carbon Roller Products
Instructional Video