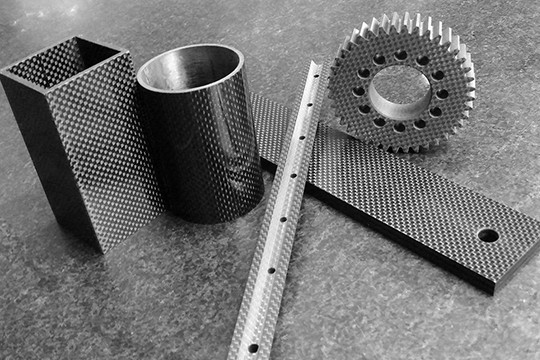 Carbon fiber reinforced plastics (CFRP) molded products
Carbon fiber composite materials, also known as carbon fiber reinforced plastics (CFRP), are composite materials made of carbon fibers and resin (mainly epoxy resin).
As light, strong, and hard materials, they are used in wide range of applications such as sporting goods, industrial, aircraft and automobile components. By selecting suitable resin, it is possible to add features like heat resistance, impact resistance, and flame retardant, and thus provide superior characteristics not found in conventional metals and ceramics to enable a reduction in the weight of parts, give freer design.
Features of Carbon Fiber Reinforced Plastics (CFRP)
Light (specific gravity is about one-quarter that of iron and two-thirds that of aluminum)
High rigidity, high strength (10 times stronger than steel)
Parts having heat resistance of 400ºC or higher can be designed.
Used as an aircraft material due to its high-impact resistance
By adding flame-retardant properties expand its applications to new transportation systems (buses and others)
Can be used as a heat-dissipating material by adding high thermal conductivity
High degree of design flexibility, which can achieve complex shapes.
Can also provide radio wave shielding properties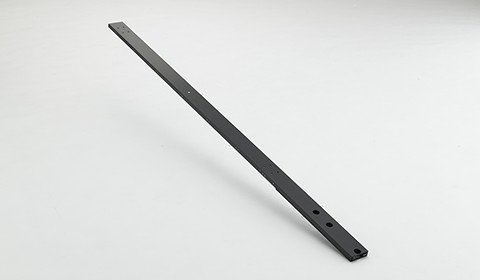 Applications of Carbon Fiber Reinforced Plastics (CFRP)
Precision machinery parts (robot hands for LCDs, end-effectors for semiconductors, etc.)
General industrial machinery parts (transfer beams for transport equipment, and other uses.)
Parts for medical equipment (X-ray cassettes and other devices)
Sporting goods (fishing rods, rackets, bats, bicycle parts, etc.)
Components and structural materials for artificial satellites, aircraft, helicopters, and drones
Automotive components (exterior panels for trunk lids, interior panels, etc.)
Hulls, masts, booms, etc.
Reinforcement materials for wind turbine blades
Pressure vessel
Reinforcement materials for buildings, road infractructures, etc.