Multilayer Co-extruded Film
DIAMIRON™
Mitsubishi Chemical Corporation
DIAMIRON is a multilayer film combining polyamide, EVOH, polyolefin etc. by our proprietary technology. No chlorinated resin is used. Flat and tube types are available. A wide range of applications as deep drawing and vacuum packaging include food packaging, medical devices, and industrial materials.
DIAMIRON is produced under ISO9001 and FSSC22000-compliant quality control.
Applications
For food packaging
For medical device packaging
For transfusion bags
For industrial materials
Multilayer Co-extruded Film

DIAMIRON™ MF

[Close]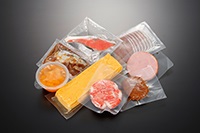 DIAMIRON MF is a multilayer film mainly used for vacuum packaging. Flat film type is available. We have a full lineup and we quickly develop a new product depend on customers' demand. DIAMIRON MF has been highly appreciated by many deep drawing packaging users.
Characteristics
Excellent deep drawing moldability.
A film utilizing the tenacity of polyamide.
A film suitable for food packaging by taking advantage of gas barrier properties of polyamide and ethylene vinyl alcohol copolymer.
With excellent transparency and gloss.
Easy-open type films are available.
Compliant with the Specifications and Standards for Foods, Food Additives, etc. under the Food Sanitation Act (the Ministry of Health and Welfare Notification No. 370, 1959.)
Multilayer Co-extruded Film

DIAMIRON™ M

[Close]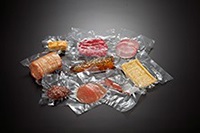 DIAMIRON M is a polyamide-based and bag-shaped film. It has a long track record for vacuum packaging, gas flush packaging, and pillow packaging.
Characteristics
A Flexible film.
Excellent pinhole resistance, cold resistance and sealing ability.
A film with good transparency and gloss.
We have a tube film lineup.
Non-oriented Polyamide Film

DIAMIRON™ C

[Close]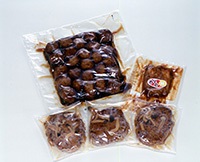 DIAMIRON C is a non-oriented nylon 6 film with good deep drawing moldability, tenacity, heat resistance, and cold resistance.
Characteristics
Has good thermal moldability, suitable for deep drawing thermoforming.
Non-oriented film with good pinhole resistance.
Can be used in wide temperature ranges (-60°C~130°C) from freezing to boiling.
Excellent oxygen barrier property. If higher gas barrier property and shelf life, use of PVDC coated film is recommended.
Suitable for laminate processing (Corona treatment is for one side of the film only).
Multilayer Co-extruded Film for Medical Supplies and Pharmaceuticals Packaging

DIAMIRON™

[Close]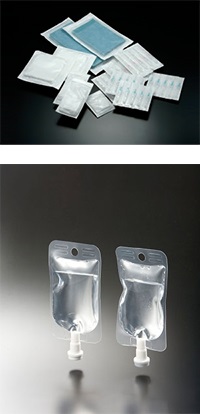 We constructed a special, clean production environment to produce DIAMIRON as an extremely high-quality primary packaging. This material is used in such products as blister packs and infusion bags.
Applications
Sterile blister packs for medical supplies

Sterilization methods such as EOG, radiation, and autoclave can be used with this material. This material is used with hypodermic needles, surgical kit products, pre-filled syringes, catheters, drapes, gauze, cotton swabs, cotton balls, and other products.
Transfusion bags

The multilayer design enables us to provide materials with the performance and functionality required for transfusion bags. This material complies with the Japanese Pharmacopoeia. We produce this product under strict quality control including production in an ISO class 8 clean room.
---
If you would like to request any of the following materials, please write the name(s) of the document(s) on the inquiry form.
Diamiron MF
Diamiron M
Diamiron C-Z
---
Inquiries Concerning Products
---
Mitsubishi Chemical Corporation

Performance Film Unit
View the products of Performance Film Unit, Mitsubishi Chemical[Open in a new window]