High flow PVC powders for slush molding process
MARVYFLO™
Mitsubishi Chemical Corporation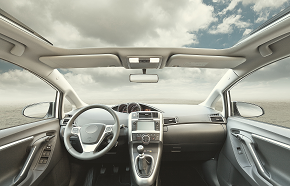 High flow PVC powders designed for the production of instrument panels, door panels, glove box and other automotive interior surfaces.
MARVYFLO™ slush powders are designed for the manufacturer of slush molding skins for instrument panels, door panels and other soft touch parts.
MARVYFLO™ formulations are plasticized PVC formulations which provide excellent mechanical performance for durability, airbag deployment and resistance to aging.
DESIGN, COMFORT and APPEARANCE
[Close]
HAPTICS
With its impeccable finish and soft feel, MARVYFLO™ slush powder is the material of choice for dashboards and interior surfaces. MARVYFLO™ provides instrument panel skins the gloss, grain and touch expected by automotive designers.
FREEDOM OF DESIGN
The slush molding process and MARVYFLO™ allow for sharp radii, grain reproduction and deep undercuts giving freedom of design not possible with injection molding or vacuum forming.
COLOUR
Colour is another differentiating factor of MARVYFLO™. Any colour can be produced, including two-tone skins while meeting the most stringent aging requirements.
Inquiries Concerning Products
---
Mitsubishi Chemical Corporation

Performance Polymers Unit
View the products of Performance Polymers Unit, Mitsubishi Chemical[Open in a new window]