Zeolite Membrane
ZEBREX™ (Organic Solvent Dehydration)
Mitsubishi Chemical Corporation

ONE pass dehydration, Easy operation, Various solutions with various zeolite membranes
ZEBREX™ is cutting-edge zeolite membrane dehydration process, which can continuously dry variety of organic solvents by only One pass ex.) Ethanol, Isopropanol, Acetone, Methyl Ethyl Ketone, etc
With a proven track-record at over 100 projects over the world, ZEBREX™ contributes to optimization of your plant process, realizing capacity expansion and energy saving at the same time.
Our wide lineup of zeolite membrane type enables us to apply ZEBREX™ to variety of organic solvents and water concentration.
Solutions-Dehydration reaction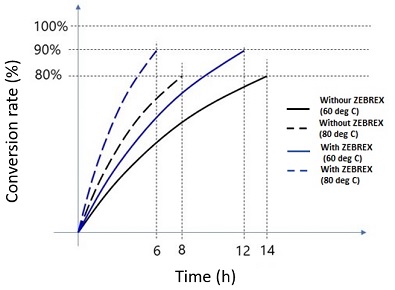 Some reactions such as an esterification generate water during the reaction. For example, in the esterification reaction, presence of water puts the reaction in equilibrium. In general, process engineers use distillation / PSA for dehydration. However, operation of distillation / PSA is complicated for customers because the amount of water produced changes over time. ZEBREX™ can contribute to shorten takt time and easy operation. Moreover, ZEBREX™ can improve its yield. This technology is now in practical application stage.
Solutions-Solvent recovery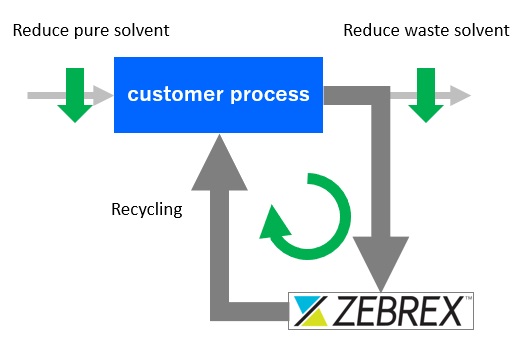 We contribute recycling at customer site by ZEBREX™. For example, cost of dehydrated solvent is roughly 10 JPY/kg (About 0.1 USD/kg) in some cases.
Notice:

Cost is only reference. Above reference is included ZEBREX™ unit cost, cost of membrane at replacement and utility cost. Any construction cost, interest rate, cost related with administrative procedure and the other cost that is not written in this sentences are not include. Cost is changed depending on depreciation period, yearly operation time and other factors.
Solutions-New product by low temperature dehydration
Comparison of amino acids amounts in Japanese sake before and after concentration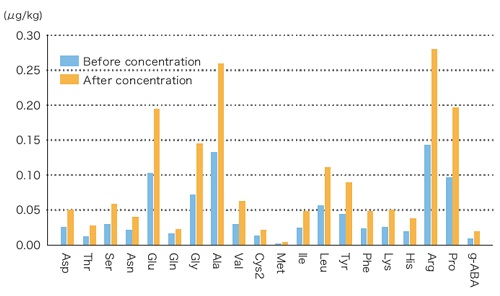 Dehydration at low temperature enables concentration that retains flavor, aroma, and active pharma Ingredients. For example, dehydration of Japanese sake in an atmosphere of room temperature, dehydration of ethanol in atmosphere of 50 to 60 degree C (atmospheric pressure) to very low water concentration, etc. We have conviction that this technology will contribute to development of new customers products.
Notice:

Dehydration performance at low temperature is lower than dehydration performance at high temperature. Therefore, we suggest customer to use this technology for making high value‐added product.
Experience-installations
As of 2020, ZEBREX™ has been installed in over 100 plants worldwide, including United State, Japan, China, South East Asia, South Asia and Europe.
ZEBREX™ can be applied to a variety of solvents, such as isopropanol, ethanol, acetone, n-propanol, methyl ethyl ketone, NMP, fluorine-based special solvent, etc.
ZEBREX™ customers are in industries of chemical (inorganic and organic), pharmaceutical, alcohol, bioethanol, beverage, waste solvent treatment, electronics and engineering.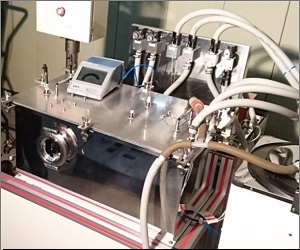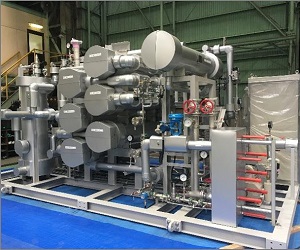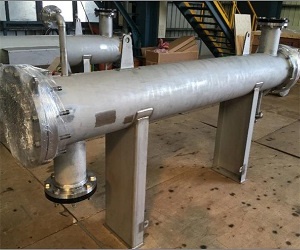 Market
Solvent
※

Include the experience of Mitsui E&S and Mitsui E&S power systems
Experience-history
Hot topics
1997

Mitsui Engineering & Shipbuilding Co., Ltd. (Current Mitsui E&S Holdings Co., Ltd. ) launched world's first zeolite membrane dehydration system.

2015

Mitsubishi Chemical Corporation commercialized CHA type zeolite membrane, named ZEBREX™ ZX1.

2016

Mitsui Zosen & Machinery Service Inc. (Current Mitsui E&S power systems Inc.) and Mitsubishi Chemical Corporation made business alliance about zeolite membrane. Unified brand name is ZEBREX™ (Industrial grade) and KonKer™ (Food grade).

2017

Mitsubishi Chemical Corporation commercialized acid resistance zeolite membrane for bio ethanol industry, named ZEBREX™ ZX2.
Advantages-Solutions
We can provide our customers "total solutions for your dehydration process".
Our high-quality solutions are based on our

1.

Chemical knowledge

2.

Engineering knowledge

3.

Long term experience of membrane dehydration

We are one of the leading companies in chemical industry and a pioneer of zeolite membrane.
We can make more effective proposals by testing customers' sample on our own under various conditions. We also have a pilot scale test unit for dehydration. It is used for advancing our technologies.
We have the technology to perform advanced process simulation based on the conditions provided by our customers.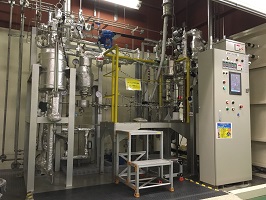 Advantages-Key material
The core material / technology of ZEBREX™ is zeolite membrane. Water and solvent (ex. Ethanol) are separated by zeolite membrane that has homogeneous pores.
High water resistance: Maximum water concentration applicable is 99wt%.
High acid resistance: Our membrane is capable of high acidity from pH3.
Water concentration reached after dehydration: 0.01wt%.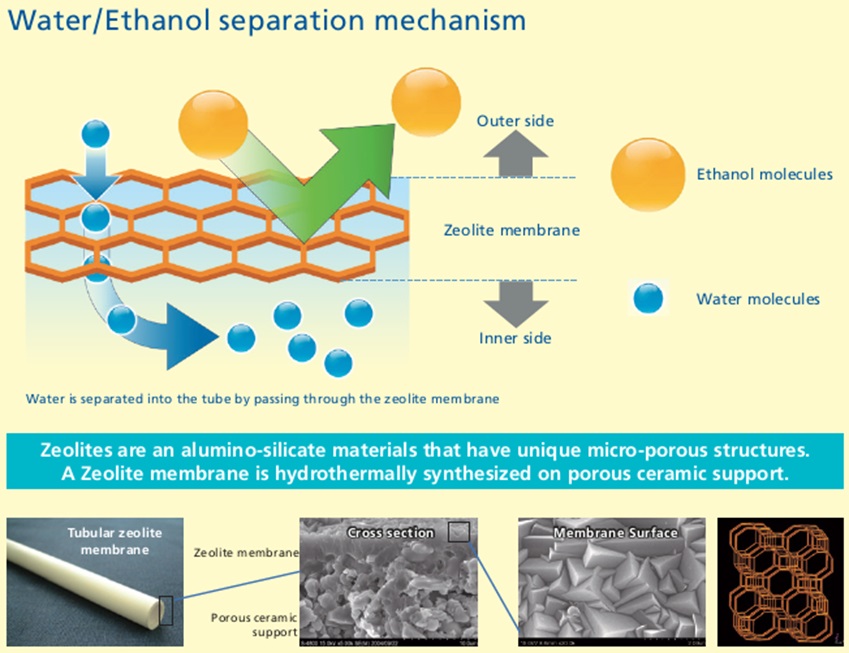 ZX0,1,2 were tested for approximately 1 month under relatively strong acidic condition. Except ZX0 (LTA zeolite type zeolite membrane), membrane performance (flux and selectivity) was still stable after dehydration test. As a result of that, we definitely think that ZX1 and ZX2 are useful for below applications.
(Application example)Esterification process, Dehydration of high water concentration solvent.
Test condition;
Solvent type:Isopropyl alcohol/ H2O (Water concentration is 15wt%)
Initial pH: 2.3 (Add Nitric Acid (HNO3) 1,000ppm)
Operation temperature:130℃
*We are determining degree of deterioration of zeolite membrane now.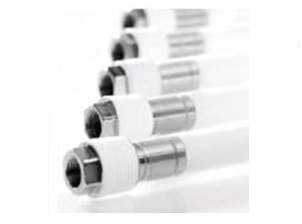 | Industrial grade | ZEBREX™ ZX0 | ZEBREX™ ZX1 | ZEBREX™ ZX2 |
| --- | --- | --- | --- |
| Food grade | | KonKer™ KK1 | KonKer™ KK2 |
| Acid resistance | Low | High | Medium |
| Water resistance | Low | High | Medium |
| Flux | High | Medium | Medium |
We have line-up test equipment to support customer experiment and feasibility study about ZEBREX™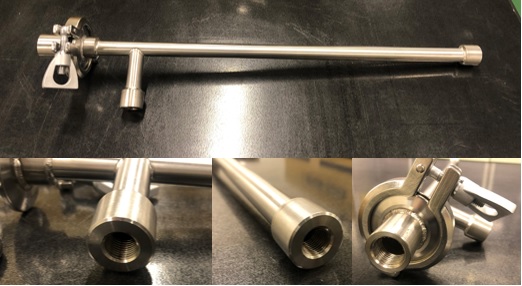 Installing one zeolite membrane which length is 40cm (15.75 inch)
Main component;

Membrane module, zeolite membrane
※

The connection specifications are screw-in type.

※

Recommended vacuumed pump spec; Ultimate pressure is under 200Pa、
Exhaust velocity more than 10L/min

※

Recommended feed pump spec; 250L/hr

※

Notice; Above technical information is reference only. Recommended values might be changed depending on customer specification, customer required spec, solvent type and others.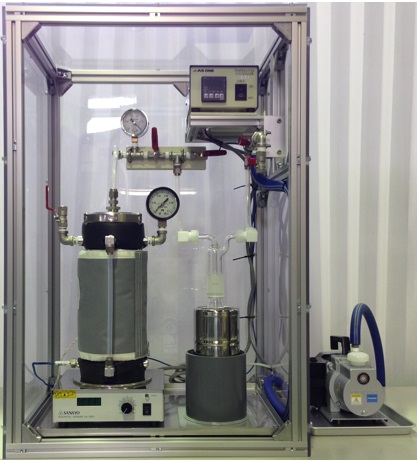 Test data example:

Operation temperature; 120 deg C. (248 deg F)
IPA concentration; 98wt%->99.997wt%

Main components:

PV dehydration unit
Zeolite membrane
Thermostat
Stirrer
Vacuumed pump
Cold trap

※

ETH-Type Ⅲ is a product of SEPINO co., Ltd.

※

ETH series provides insight for designing effective zeolite separation membrane system from a water containing organic solvent through a dehydration test using zeolite membrane.
Inquiries Concerning Products
---
Mitsubishi Chemical Corporation

Membrane Business Gr.Separation Materials Dept.

View the products of Separation Materials Dept., Mitsubishi Chemical[Open in a new window]