Optical clear adhesive sheet
CLEARFIT™
Mitsubishi Chemical Corporation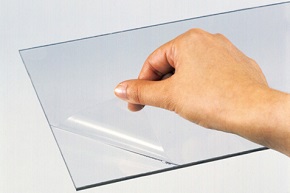 This transparent, adhesive sheet can be used as a filler between layers of panels used for touch and other types of displays. Use of this sheet to fill voids in the display prevents mirroring and improves both contrast and visibility.
Bonds easily with the use of roll crimps.
A flexible adhesive is used to help ensure a uniform fit onto surfaces and prevent air bubbles and optical distortion.
Air bubbles are not likely to form with this material even during the heating process of the laminated product after affixing the sheet.
Fills voids in the display to prevent mirroring.
Use of this sheet improves contrast, which also improves visibility.
Inter-layer fill sheet for various types of displays
Inquiries Concerning Products
---
Mitsubishi Chemical Corporation
Sales 1 Section, Display Films Unit
View the products of Display Films Unit, Mitsubishi Chemical[Open in a new window]