Maleic Anhydride
MAH/Maleic Anhydride
Mitsubishi Chemical Corporation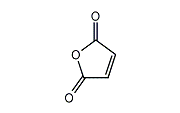 Maleic anhydride is produced by oxidation of benzene or a C4 hydrocarbon such as butane in the presence of a vanadium oxide catalyst. Maleic anhydride can be converted to maleic acid by hydrolysis and to esters by alcoholysis.
CAS: No. 108-31-6 (T)
EINECS: No. 203-571-6
Japan, Chemical Substances Control Law: METI-No. 2-1101
Japan, Industrial Safety and Health Law: ID No. 554 (SDS required)
Japan, Poisonous and Deleterious Substances Control Law: Not applicable.
Japan, Fire Services Law: Not applicable.
Since maleic acid molecule has a double bond and two carbonyl groups, it is rich in reactivity and has good biodegradability.
Common Names
Maleic Anhydride,
Maleic Acid Anhydride,
2,5-Dihydrofuran-2,5-dione,
Furane-2,5-dione,
2,5-dioxofuran,
Toxilic Anhydride
Structure
CAS No.
108-31-6
Japan Chemical Substances Control Law METI-No.
(2)-1101
Japan, Poisonous and Deleterious Substances Control Law
Not applicable
Japan, Fire Services Law
Not applicable
Molecular Weight
98.1
Appearance
White crystals
Odor
Pungent smell
Specific Gravity (70/4℃)
1.3
Boiling Point (℃)
202
Melting Point (℃)
52.8
Solubility
Readily soluble in water and methanol
Vapor Specific Gravity
3.4
Flash Point (℃)
102
Autoignition Temperature (℃)
477
Since 1971, our Mizushima plant (Kurashiki-shi Okayama-ken) has had industrial production of maleic anhydride starting from the C4 fraction. Currently, butane is the starting material.
Maleic anhydride has a very broad range of uses from food additives to industrial applications.
Synthetic resin raw material (unsaturated polyesters)
Paints and coatings
Resin modifiers
Vinyl chloride stabilizers
Food additives (fumaric acid, succinic acid, malic acid)
Agricultural chemicals
Paper sizing agents
Imides
Surfactants
Plasticizers (DOM, DBM, DEM)
Other (GBL, 14BG, THF)
The Japan Fire Service Law does not apply to maleic anhydride. When handling, avoid contact with eyes and skin by using proper protective equipment such as goggles and gloves. If skin contact occurs, wash immediately with soap and water.
Specifications/Quantities
[Close]
Product Specifications

| Item | Specification |
| --- | --- |
| Appearance | White crystals |
| Water-soluble form | Clear colorless |
| Melting Point (℃) | >52 |
| Purity (%) | >99.5 |
| Dissolution Test (Hazen) | <20 |
| Iron (%) | <0.0005 |
Available Quantities

| | | |
| --- | --- | --- |
| Liquid Product | Tanker Truckload(Lorry)/Container | 10ton/13ton |
Inquiries Concerning Products
---
Mitsubishi Chemical Corporation

C4 Derivatives Unit
View the products of C4 Derivatives Unit, Mitsubishi Chemical[Open in a new window]