International Container Transportation
MITSUBISHI CHEMICAL LOGISTICS CORPORATION
We can provide the logistics services of the highest standards and quality, based on the results and experience of many years used mainly chemicals.
In addition, we have a large number of staffs who are familiar with the various logistics services to a wide variety of items not only chemicals and dangerous goods but also auto parts, building materials, food and consumer goods, we will closely meet your needs.
Please contact our person in charge willingly available, such as logistics cost reduction, all consultation,etc.
International Marine Container Transportation Service
Through our background of rich transaction volume, we can provide competitive fares of FCL (Full Container Load) and LCL (Less than Container Load) transport. We can also provide have know-how and many years of experience in international maritime transport of "Sea-bulk" (powder or resin). We have a cooperative relationship with manufacture of the "Sea bulk", therefore we can offer a consistent transport from container-filling ~ international maritime transport to user-silo.
International ISO Tank Container Transportation Service
Taking advantage of a wealth of knowledge and experience to the dangerous goods and chemicals, we can provide ISO tank containers to meet the needs of our customers, as well as our safe and secure transport which made full use of the management method as of "Mitsubishi Chemical Logistics spec".
International Freight Forwarding Service
In Japanese major ports, we are handling various items mainly chemicals, auto parts, building materials, and consumer goods. We can provide trucking, container transport, sea transport, air transport, rail transport, warehousing, cargo handling, packing, and customs clearance, domestic and international integrated logistics system.
International Multimodal Transport Service (N.V.O.C.C , Trilateral transport)
We can support the global business activities of our customers through overseas agent and overseas subsidiaries (Thailand, China, Singapore and Indonesia), we also provide trilateral transport service.
Import & Export Customs Clearance Service
We are performing customs clearance service at major ports in Japan. We also can undertake business agency of trade in general, such as advice of trade transactions and paperwork.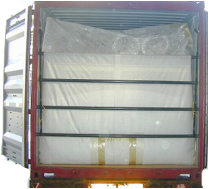 Inquiries Concerning Products
---
Mitsubishi Chemical Logistics
View the products of Mitsubishi Chemical Logistics[Open in a new window]