Phosphors for optical devices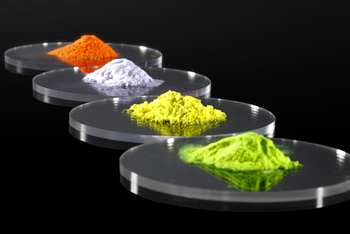 Phosphor is a material which absorbs light energy, such as ultraviolet and visible rays, and converts it into certain light. Mitsubishi Chemical Corporation has long experience in development and manufacture of phosphor for more than 50 years. Based on manufacturing technology derived from this experience, Mitsubishi Chemical Corporation provides phosphors for optical devices such as LED and lasers.
Mitsubishi Chemical Corporation started to develop, manufacture and sell the high-performance nitride red phosphors prior to other phosphor suppliers. In addition, many kinds of red, yellow and green phosphors manufactured by Mitsubishi Chemical Corporation are currently used for applications of LCD backlighting and general lighting devices. With a variety of product lineup, strong patents, and deep knowledge and experiences in optical devices, Mitsubishi Chemical Corporation can propose the best phosphor solutions which meet customers' needs.
Lineup/Specifications
[Close]
Color
Chemical Formula
Popular Name
λp / nm
Yellow
Y3Al5O12:Ce3+

YAG

551-559

La3Si6N11:Ce3+

LSN

535-540

(La,Y)3Si6N11:Ce3+

LYSN

550

Red
CaAlSiN3:Eu2+

CASN

650-660

(Sr,Ca)AlSiN3:Eu2+


SCASN


607-640


Green


CaSc2O4:Ce3+


CSO

516

(Si,Al)3(O,N)4:Eu2+


β-SiAlON

534-544


Y3(Al,Ga)5O12:Ce3+


GYAG

530-532


Lu3Al5O12:Ce3+


LuAG

523-540


Blue

(Sr,Ba)10(PO4)6Cl2:Eu2+

SBCA

473-453
Inquiries Concerning Products