Dextranase
Dextranase2F
Mitsubishi Chemical Corporation
Origin
Chaetomium gracile
Titre
Dextranase activity:3,900~4,800 u/g
BENEFITS
In the sugar industry, one major problem is caused by damage to beet and cane tissue resulting from the formation of polysaccharides, in particular dextran, on reaction with contaminating microorganisms. The formation of dextran in the sugar manufacturing process not only hinders filtration, but also retards crystallization, elongates sugar crystals, and reduces sugar recovery. DEXTRANASE 2F is derived from non-recombinant strains of Chaetomium gracile and is an endo-type dextranase, which exclusively hydrolyses the α-1,6-linkage of dextran and reduces the viscosity of the sugar juice rapidly and prevents sucrose crystal elongation. As DEXTRANASE 2F is a very stable enzyme at high temperatures, it is the best choice for the sugar manufacturing process.
Dextran hydrolysate, Improvement of sugar yield.
In laboratories, sufficient effects were obtained using approx. 10.4 units of Dextranase on 1g of dextran. Further, the sugar manufacturing industry required many high-temperature processes and heat resistance in the enzymes used, so Dextranase 2F is applicable as it can be used effectively up to 70ºC.
Lineup / Specifications
[Close]
| | | |
| --- | --- | --- |
| Component | Blending quantity (%) | Notes |
| DEXTRANASE | 25% | Main agent |
| Glycerin | 56% | Vice agent |
| Food ingredients | 19% | Water |
Volume(package)
20kg:PE container
200kg:(drum)liquid
Dextranase 2F activity
[Close]
pH activity           Temperature activity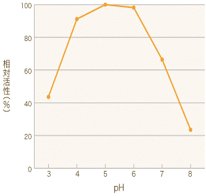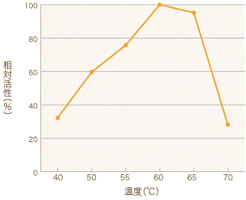 Inquiries Concerning Products
---
Mitsubishi Chemical Corporation

Life Solutions Dept.
View the products of Life Solutions Dept., Mitsubishi Chemical[Open in a new window]