Rubber Carbon Black
DIABLACK™
Mitsubishi Chemical Corporation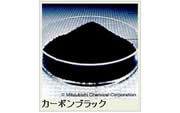 DIABLACK™ has been used as rubber reinforcement material in a wide range of products such as tires and rubber products. CAS No.1333-86-4
Carbon black is a particle mainly composed of carbons that is produced by the incomplete combustion of oil and gas. There are several methods of manufacturing carbon black. At Mitsubishi Chemicals, we use the furnace method (furnace black) where product is created from incomplete combustion of reactants by introducing coal-based oil or petroleum into a hot gas stream.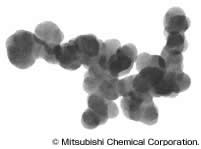 We manufacture carbon black under consistent quality control throughout the process beginning from raw material processing to the final products. As a pioneer in the industry, we have established lot control standards in close collaboration with our customers, and we are committed to maintenance and management of high quality products.
We are constantly developing specialized functional carbon black. For additional products that are not listed here, please contact us.
Technical and development experts will cater to the needs of our customers. We are also available to support with various analyses towards problem solving.
Storage and Handling
[Close]
Obtain instructions before use. Do not handle until all safety precautions have been read and understood.
Wear protective goggles, gloves and face shield.
Do not eat, drink or smoke while handling this product.
Do not breathe dust.
Wash hands thoroughly after handling.
If you have a concern about product exposure, seek medical advice.
Store away from other substances.
Store in a cool well-ventilated place.
Store in locked cabinet.
Keep away from flame.
Dispose according to the regulations of county, state or country.
Inquiries Concerning Products
---
Mitsubishi Chemical Corporation

Carbon Black & Synthetic Rubber Unit
View the products of Carbon Black & Synthetic Rubber Unit, Mitsubishi Chemical[Open in a new window]