High Purity Ethylene Carbonate
Mitsubishi Chemical Corporation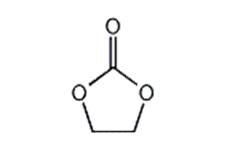 High Purity Ethylene Carbonate. As ethylene carbonate is a highly polar solvent and dissolves large amount of electrolyte, it is mainly used in lithium batteries electrolyte solution. It can also readily dissolve polymers leading to use as a release agent and detergent. Our product is high quality with low impurity levels and low moisture. It has earned an excellent reputation for adherence to the strict quality standards demanded by our customers.
CAS: No.96-49-1
EINECS: No.202-510-0
Japan, Chemical Substances Control Law: METI-No. 5-523
Ethylene carbonate is a highly polar solvent featuring high boiling point, low toxicity, no odor, and high solubility for polymers. Also, being highly polar, its permittivity is high.
Common Names

Ethylene carbonate; carbonic acid ethylene; 1,3-dioxolan-2-one; EC

Structure
Cas No.

96-49-1

Japan, Chemical Substances Control Law /
Japan, Industrial Safety and Health Law

(5)-523

Formula

C3H4O3

Molecular Wt

88.06

Appearance

At room temperature, a white solid cyclic carbonate.
Above the melting point, a low viscosity, clear, colorless organic solvent.

Melting / Freezing Point

36.4℃

Boiling Point

244℃

Flash Point

143℃

Specific Gravity(40/4℃)

1.32
Mitsubishi Chemical's ethylene carbonate is high quality with low impurity levels and low moisture. It has earned an excellent reputation for adherence to the strict quality standards demanded by our customers.
Lithium battery electrolytes
Capacitor electrolytes
Resist strip solvents
Fiber processing agents
Lubricants
Soil hardening agents
Organic solvents
Raw material for organic synthesis
Medical products
Available product containers
[Close]
Inquiries Concerning Products
---
Mitsubishi Chemical Corporation

C2 Derivatives and PTA Unit
View the products of C2 Derivatives and PTA Unit, Mitsubishi Chemical[Open in a new window]