Plastic Filtering Plate
Mitsubishi Chemical Infratec Co.,Ltd.
Made form high quality polypropylene (PP), our wide range of filtering materials for filter press machines include lightweight filter plates with excellent chemical resistance and high impact strength, plastic membranes with superb thermal and chemical resistance, and filter-press-plate unit combined with anticorrosive plastic membrane.
Filter Plates
This product takes advantage of anticorrosive characteristics and lightweight of PP, and we custom-manufacture large filter plates with maximum 2 by 2 meters squared.
Characteristics
Made from special grade PP plastic, excellent in fatigue characteristics.
Light-weighted and soft structured, as the product is made of PP. The specific gravity is 0.91, which is about 1/8 of a plate made of cast iron.
Provided with excellent corrosion resistance. Shows stable corrosion resistance against acid, alkaline and many other general chemicals.
In normal operations, the product can be used for a temperature up to 80°C.
For mass production, integral products can be enabled with a mold pressing. With mold pressing, circular projection shapes on filtration surface can be formed.
Compressed Plastic Membrane

HISHI MEMBRANE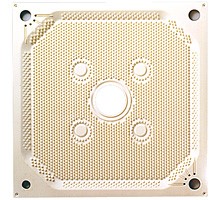 This is a plastic membrane that has both corrosion resistance and elasticity, developed by Mitsubishi Chemical as a first in the world. Compared with conventional rubber-based membranes, durability has been drastically extended. It is special mold pressing product and has standard and custom-formed products.
Characteristics
Compared with rubber-based membranes, the product has better thermal and chemical resistance in general, resulting in a longer life and improved advantages.
Product lineup responding to a wide range of applications and fields including general purpose, oil, food industry, and pharmaceuticals.
Wider applications in terms of temperature, acid, alkaline and oil compared with rubber squeezing membrane.
If using the existing filter press machines, HISHI MEMBRANE can replace existing rubber-based membrane, depending on manufacturers and models.
Corrosion-resistant Filter Plate

HISHI MEMBRANE PLATE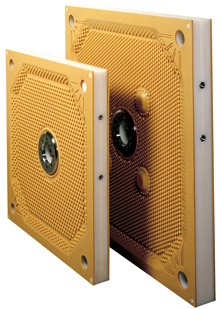 PP-based anticorrosive filter-press-plate unit combined with HISHI MEMBRANE. Membrane can be easily replaced.
Characteristics
Equipped with plastic-based membrane.
Filter-press-plate unit integrated with PP-based filter plate.
Applicable for a wide range of fields.
Porous Plastic Material

FILDUS™
FILDUS is a porous plastic material based on our excellent sintered plastic and proprietary manufacturing technologies.
Characteristics
Use of a single raw material of ultra high molecular weight polyethylene (UHMWPE) results in a clean material without any mixture with impurities.
With excellent chemical resistance and proper pressure drop, the product is suitable for various filters and powder fluidization bed.
When applied to filters, the product offers small pore sizes for excellent filtering performance.
As no toxic gas is generated when incinerated, disposal after use is simple and easy.
Applications
Various filter applications

Dust collector filters / powder collector filters / liquid-solid separation filters
Air track system
Lineup / Specifications
Fildus™ B In-mold Sintering products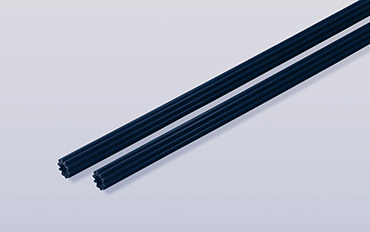 Product form
Offers clean high-performance filtering.
Star-shaped pipe
Filter unit
Inquiries Concerning Products
---
Mitsubishi Chemical Infratec
View the products of Mitsubishi Chemical Infratec[Open in a new window]