Plastic Film-Laminated Steel Sheets
HISHIMETAL™
Mitsubishi Chemical Infratec Co.,Ltd.
HISHIMETAL is a composites material that is produced by laminating PVC film on a base material such as galvanized steel sheets, stainless steel sheets and aluminum sheets. PVC film is a general purpose film and we have employed it as a laminating film for many years.
This material is used in many different industries because it has metal strength and workability in addition to the design qualities and functional properties of plastic film.
Mitsubishi Chemical Infratec【HISHIMETAL】[Open in a new window]
HISHIMETAL is a laminated material including a metal layer and a PVC film layer available in many different color patterns and emboss.

Many options are available including solid colors, printed patterns, high-gloss options to satisfy various design requirements.

This material can be used in typical metal forming processes such as bending, cutting, and pressing.
This material can be used for outdoor applications by laminating a weather-resistant PVC film.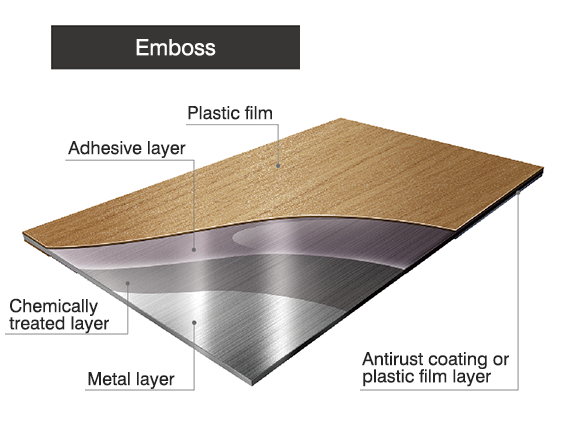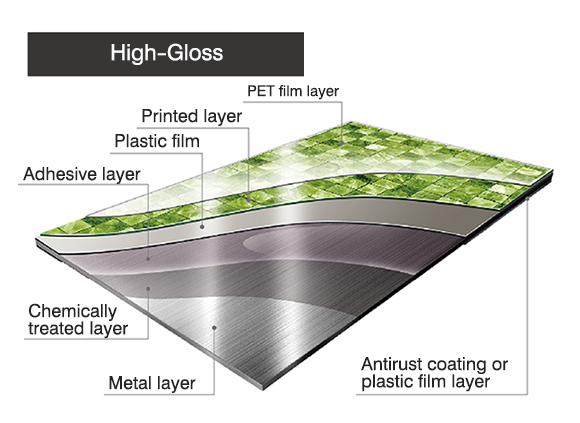 HISHIMETAL is widely utilized in many different applications due to its excellent weatherbility, corrosion resistance and a variety of colors and patterns.
Interior applications
Unit baths, curtain rails, closet doors, spandrels, and others
Exterior applications
Residential building accessories, gutters, shutter cases, doors, factory roofs, walls, and others
Light electrical appliances
Refrigerators, audio equipment, medical equipment, measuring instruments, lighting, and others
Other
Automotive parts, bicycle mudguards, and others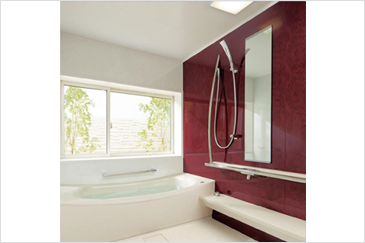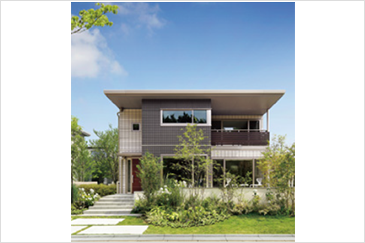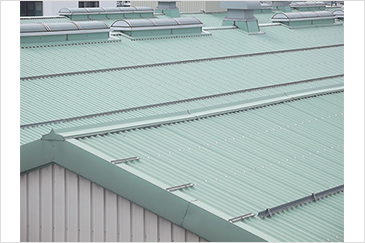 Manufacturing Range and Order Conditions
[Close]
Lot
A lot of 2.5 tons or more is required to order a product having the same specifications such as the same sheet thickness, width, color and emboss.
*

Please order in lots of at least 2.5 tons as special request lots smaller than this will require an extra fee.
Specific test
Test conditions
Criteria
HISHIMETAL
Adhesion
Conformal Erichsen
6 mm extrusion
25±5°C
No separation
Nothing abnormal
Bendability
Adhesion and bending test
25±5°C, 0 T
No cracking, breakage,
and separation
Nothing abnormal
Processability
at low temperature
90° bend test
0±1°C, R=2
No cracking, breakage,
and separation
Nothing abnormal
Resistance to boiling water
Dipping in boiling water
Submerged in water for 5 minutes after 60 minutes of immersion
No shrinkage, cracking, breakage, creasing,
separation,
and marked fading
Nothing abnormal
Chemical resistance
5-minute immersion
(20±2°C)
10% hydrochloric acid
No rust, stain, and
marked fading
Nothing abnormal
Saturated calcium hydroxide
10% sulfuric acid
Aqueous solution of sodium hydroxide (100 g/L)
Ethanol
Kerosene
Corrosion resistance
Complies with salt spray test
JIS Z 2371
JIS K 6744
Type A: 2,000 hours
No rust
Nothing abnormal
JIS K 6744
Types B and C: 1,000 hours
Weather resistance
Sunshine
Weather-Ometer
, complies with JIS A 1415
JIS K 6744
Type A: 2,000 hours
No rust, breakage, and
marked fading
Nothing abnormal
JIS K 6744
Type B: 1,500 hours
Self-extinguishability
Gas burner heating for 20 seconds
Extinguishes immediately
Nothing abnormal
*

Please contact us to inquire on the certification of fire-resistant materials.
Inquiries Concerning Products
---
Mitsubishi Chemical Infratec
View the products of Mitsubishi Chemical Infratec[Open in a new window]