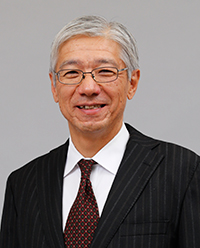 Realizing KAITEKI through world-class research and development by making it our motto to Connect (combine diversity), Create (create social value) and Capture Value (maximize economic value)
Mitsubishi Chemical Corporation is an integrated chemical company that operates a variety of product lines divided into ten business domains. They range from industrial materials including carbon materials and petrochemicals to high performance products including high performance polymers, fine chemicals, films and composites. We conduct business by hybridizing the axes of these business domains with another three axes and taking extensive advantage of them. The three axes are the axis of the individual regions controlled by the Regional Headquarters established in four major areas of the world (Europe, the United States, China, and Asia); the axis of five focus markets: 1) automobiles and aircraft (mobility); 2) packaging, labels, and films; 3) IT, electronics, and displays; 4) environment and energy; and 5) medical, food and biotechnology; and the axis of twelve technology platforms.
Creating new research themes is a top priority for R&D. I think that there are three approaches to achieving it. The first approach is to backcast from future predictions for a few decades ahead and decide a large-scale project theme in a top-down fashion while ensuring the consistency of our company's technology with the market. The second approach is a bottom-up type that does not consolidate themes into limited ones, but supports researchers' initiatives and sets a number of themes quickly while having a dialogue with the market. The third approach is to create themes by delving into science with a technology platform at the core. Each of these approaches has their own advantages, so our company will not depend on just one of them. Instead, we will flexibly respond to the movement of the times by frequently using open innovation while we will delve into science with well balancing top-down and bottom-up approaches.
To realize KAITEKI, the Mitsubishi Chemical Group's R&D division will "connect" knowledge inside and outside the company, "create" social value, "capture" economic value, and achieve the R&D vision of "becoming a world-class R&D division that continues to create innovation and contribute to society in a sustainable manner."
Akihisa Kakimoto,
Managing Executive Officer