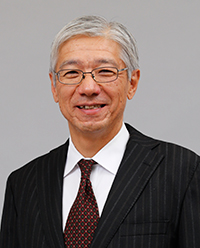 Creating businesses with technological value, industrial value, and true social value to realize KAITEKI as a leading chemical company
R&D is the "creation of value", and is the source of international competitiveness supporting modern society and our future economic activities. While the development race is fierce in every country, we always ask honestly what the veritable purpose of technological innovation is from the viewpoint of global problems such as population and environmental problems as well as international economic and other issues. To achieve sustainable growth for human society, we are not only advancing new functionality and better characteristics but also realizing innovation that responds to the essential needs of society.
Mitsubishi Chemical Holdings group (MCHC group) aims to establish the foundation to become "THE KAITEKI COMPANY" being recognized on a truly global level by increasing profitability, pursuing innovation, and contributing to sustainability under the mid-term management Plan, APTSIS 20. As a member of the MCHC group, we are promoting R&D that demonstrates clear Value Propositions based on "Sustainability", "Health" and "Comfort", the decision criteria for corporate activities.
In a world where digitization and globalization are advancing rapidly and the industrial structure itself is under major transformation, it is important to drive research and development with strong will to bring differentiated solutions in a competitive landscape. As the knowledge-based economy develops further, R&D strengths lie in creating cutting-edge information and turning it into intellectual capital, and there are many different sectors where Mitsubishi Chemical is able to cultivate with unique approaches as a chemical company which covers a wide range of businesses. Mitsubishi Chemical will further expand its technology platforms and integrate various core technologies while flexibly adapting to the changes in the evolving world and leading the industrial transformation.
We are also enhancing collaborations with various external research institutes and business partners to accelerate new value creation. To date we have started one system after another to promote open innovation globally. We are pursuing further advancement of initiatives for open innovation while broadening their depth and strengthening cooperation.
The Mitsubishi Chemical Group R&D continues to aim for the growth and evolution of both individuals and organizations level. We will contribute to the realization of KAITEKI by delivering R&D solutions that respond to the essential needs of customers and society.
April 2018
Akihisa Kakimoto,
Managing Executive Officer