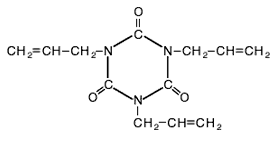 Adding TAIC™ to the crosslinking process of polymers and rubbers greatly improves crosslinking efficiency, heat resistance, and mechanical properties.
CASNo.:

1025-15-6

TSCA :

1025-15-6

EINECS:

213-834-7
High quality crosslinking coagent for improvement of crosslinking efficiency by three functional allyl groups.
With a triazine ring, heat resistance is greatly improved.
Various polymers can be greatly improved by copolymerization.

(1)

Heat resistance

(2)

Mechanical characteristics

(3)

Hydrolytic resistance

(4)

Weather resistance
Applications
Properties
[Close]
Improvement of various rubbers and fluorine rubber.
Improvement of plastic.
EVA film for solar battery encapsulation.
Material for polymer alloy.
Properties

| | |
| --- | --- |
| Chemical formula | C12H15N3O3 |
| Appearance | Slightly yellowish liquid or white solid |
| Viscosity | 80~110mPa・s(30℃) |
| Melting Point | 23~27℃ |
| Moisture | Max 0.1% |
20-kg oil can
200-kg drum
TAIC™M-60 Made by impregnating diatomaceous earth with 60wt% of TAIC™. As this product is in powder form, it is easy to handle and disperse to rubber, etc.
TAIC™WH-60 Made by impregnating white carbon with 60wt% of TAIC™.

This product is powder-type with low volatility in high-temperature processing fields.
High temperature processing field crosslinking agent
TMAIC™(Trimethallyl isocyanurate)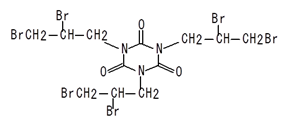 TAIC™-6B(Tris [2,3 dibromopropyl] isocyanurate)
This product has high flame-resistance to PP or PS, and causes less bleeding compared to other Br-flame retardants.
---
Inquiries Concerning Products
View the products of Fine Chemicals Dept.[Open in a new window]