Effective Placement and Human Resource Development
Basic Policy
At Mitsubishi Chemical (MCC), we aim to achieve our vision—realizing KAITEKI. To that end, we strive to secure and retain human resources who are understanding of diverse values, identify issues on their own, and involve those around them as they continually take on new challenges.
Hiring
We do not hire individuals younger than 18 years old, and practice fair, non-discriminatory hiring.
Specifically, we take thoroughgoing measures to enforce a stance of respecting human rights such that matters unrelated to the applicant's suitability and capabilities are neither asked about nor investigated in the course of the hiring process, including in interviews, and that such matters do not factor into hiring decisions. Unrelated matters include nationality, religion, gender, gender identity, sexual orientation, disability and pregnancy.
Effective Placement and Human Resource Development
We aim to realize optimal personnel placement and human resource development on a Group-wide basis to meet the demands created by changes in the business environment and globalization. To this end, we have adopted a career development program—a system for medium- to long-term strategic personnel placement and development with the aim of encouraging employees to pursue self-directed growth. The specifics of these efforts are as follows.
For employees of MCC in Japan, as a part of personnel measures designed to encourage employees to think about their careers, we conduct career design interviews. Such interviews involve an employee and their supervisor discussing the employee's current situation and how said employee plans to grow over the medium to long term. This approach is designed to help employees take the initiative and grow. Each employee works to identify their own strengths and consider for themselves how they can hone and utilize those strengths to contribute to society. At the same time, the company systematically examines ways to utilize and enhance each individual's strengths in order to achieve corporate growth.
Across the entire MCC Group, including overseas sites, we are working to effectively place and develop promising human resources in each region1 and the next generation of executive management candidates for the MCC Group.
With regard to promising human resources in each region, the regional headquarters established in April 2017 implement systematic human resource development and placement within their respective regions. At the same time, regarding the next generation of executive management candidates, we are working with the regional headquarters to implement unified global management, identifying key positions and preparing succession plans for them as well as monitoring the placement of management candidates who are expected to fill such positions in the future. The company-wide HR Committee convenes on a regular basis to manage such efforts. Furthermore, we are applying these initiatives across the entire MCC Group, including overseas companies, working to implement more systematic and effective human resource development and placement.
1

Refers to the four regions that the MCC Group has designated as its units for global business development, namely the Americas; Europe, the Middle East and Africa; the ASEAN region, India and Australia; and China and Hong Kong.
Human Resource Development System
MCC believes that on-the-job training—learning through actual, on-site work experience—is the foundation of employee growth. We expect on-the-job training to lead employees to grow autonomously through the process of identifying issues in the course of their ordinary work and solving said issues with support from those around them.
To support and reinforce this process, we have introduced measures that enable employees to proactively design their own careers. We also maintain an off-the-job training program that enables employees to learn how to fulfill their expected roles.
Furthermore, we organize training programs according to five perspectives that are based on business, workplace and individual needs. These are the junior employee development perspective, management perspective, global perspective, skill and specialist knowledge perspective and career perspective. Using such training programs, we support the growth of each employee while encouraging self-directed career development.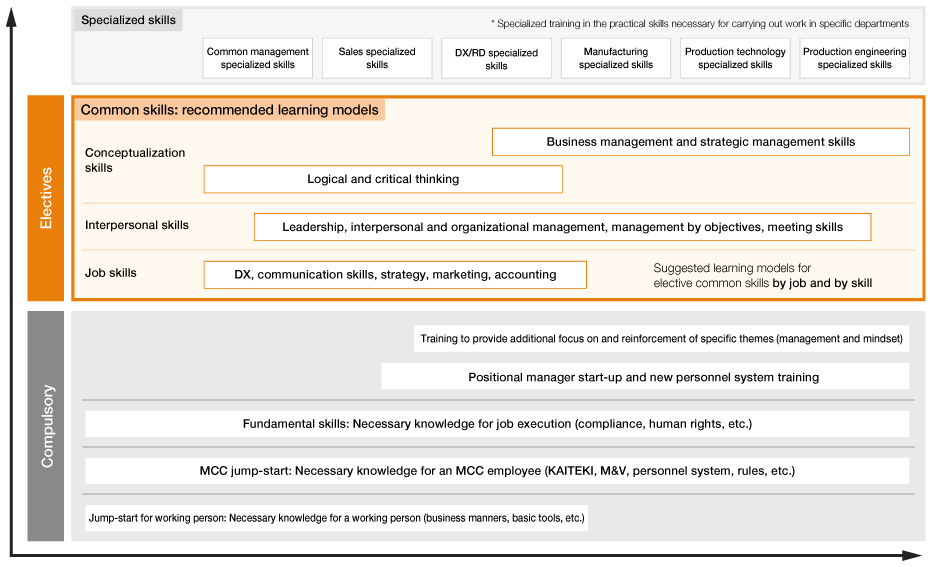 At the same time, Mitsubishi Chemical Holdings (MCHC) holds such programs as Group New Executive Training. The MCC Group actively sends its employees to participate in these programs, which offer opportunities for them to develop themselves through friendly competition within the MCHC Group.
Global Executive Development
The MCC Group is forcefully globalizing its management structure. To encourage the development of the human resources needed to handle global management, we are carrying out a range of training and other programs in and outside Japan.
The development of globally oriented management personnel requires the cultivation of global mindsets and amassing of global experience. To this end, we offer programs to develop global mindsets in Japan as well as overseas dispatch programs, including the Overseas Business Challenge Training, which combines foreign language training with internship programs at overseas Group companies, and the Overseas Survival Training, in which participants work to solve problems in a multicultural environment. By providing opportunities to gain global experience tailored to the specific level of each individual, we are working to develop globally oriented management personnel.
Furthermore, in April 2019, we launched "Experience JAPAN," a program through which non-Japanese employees of Group companies at overseas sites can come to work in Japan for about a year. By providing work experience in Japan, this program enables such employees to learn about Japanese culture, the particular characteristics of Japanese companies and Mitsubishi Chemical while promoting mutual understanding between such employees and those based in Japan, fostering a sense of unity across the MCC Group.