Together with Business Partners
Aiming to realize KAITEKI, an original concept created by the Mitsubishi Chemical Holdings Group, Mitsubishi Chemical (MCC) works with business partners to promote purchasing and procurement that take into account CSR-related considerations based on the Mitsubishi Chemical Holdings Group Charter of Corporate Behavior[Open in a new window]. Our Basic Procurement Policy and requests for suppliers are published on the page linked to below.
Promoting Communication
We facilitate communication with raw materials and packaging materials suppliers using a guidebook and survey to ensure suppliers share our understanding of CSR issues and to confirm the status of related initiatives.
We utilize survey results to provide feedback to business partners and engage in dialogue about making specific improvements. By doing so, MCC aims to build sound relationships with its business partners that enable mutual growth and improvement.
In fiscal 2019, we provided feedback based on the results of a survey of our key business partners conducted in fiscal 2018. We believe that the survey, covering such topics as the Mitsubishi Chemical Holdings Group Charter of Corporate Behavior and responses to recent external trends, helps us to more accurately express our commitments and priorities, and improve the quality of communications with business partners.
Mitsubishi Chemical's CSR Procurement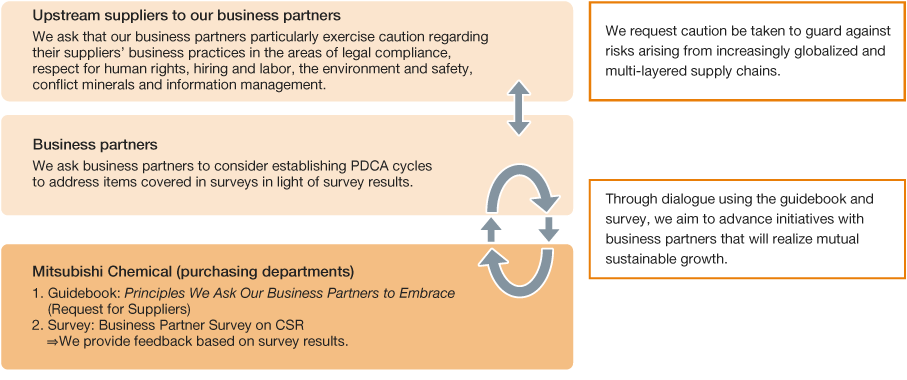 Compliance with the Act against Delay in Payment of Subcontract Proceeds, Etc. (the "Subcontract Act")
To maintain sound relationships with its business partners, MCC has clarified a system for ensuring compliance with the Subcontract Act and established internal rules, including the Subcontract Act Compliance Regulations, which indicate the specific scope of application and compliance requirements of the Subcontract Act. To ensure that transactions are conducted pursuant to such internal rules, MCC periodically implements internal training and audits of related departments.