Decentralized Water Treatment & Supply System
Relevant SDG
SDG 6: Ensure availability and sustainable management of water and sanitation for all
Safe Water for the World
While approximately 70% of the Earth's surface is ocean, fresh water accounts for just 2.5% of all water on the planet. Most of this fresh water is in glaciers and ice sheets, groundwater or otherwise difficult to access; readily available surface water1 in such forms as lakes and streams is estimated to make up just 0.01% of all water on Earth.
Furthermore, this readily usable water is unevenly distributed. According to a report published in June 2019 by the World Health Organization (WHO) and United Nations Children's Fund (UNICEF) Joint Monitoring Programme for Water Supply, Sanitation and Hygiene, some 2.2 billion people around the world do not have safely managed drinking water services, 4.2 billion people do not have safely managed sanitation services and 3 billion lack basic handwashing facilities. Achieving the SDG "Ensure availability and sustainable management of water and sanitation for all" will bring immeasurable benefits to people and society, saving lives by improving public sanitation, thereby helping prevent the spread of infectious disease and reducing infant mortality, while also reducing the gap between rich and poor, creating educational opportunities and contributing to regional economic development.
Moreover, given the frequency of major natural disasters around the world, securing water supply lifelines in times of disaster is a major issue facing developed countries, as well.
Mitsubishi Chemical Aqua Solutions Co., Ltd. (MCAS; formerly Wellthy Corporation) has been working to solve these problems for more than 20 years. Focusing on groundwater, which accounts for 0.76% of the planet's water, MCAS strives to contribute to the supply of safe water using the decentralized water treatment & supply systems it has developed. These systems are currently supplying water—an essential for daily life—both in Japan and overseas.
1

Surface water: Water that originates mainly from precipitation and is present entirely above ground in such bodies as rivers and lakes.
What is a Decentralized Water Treatment & Supply System?
Capable of processing water from a wide range of sources, MCAS's decentralized water treatment & supply systems employ the company's accumulated membrane filtration technologies. MCAS handles everything from development and manufacture to the management and maintenance of these systems. MCAS systems are mainly used with groundwater in Japan and with surface water overseas. Their compatibility with diverse water sources gives the systems a major advantage. In addition, these systems offer the following advantages.
The system can be installed on an area the size of a few parking spaces and requires less investment than a large-scale centralized water purification plant
Customers can select the optimal system configuration for the type and characteristics of their water source and the usages and required supply capacity of treated water
A remote monitoring system ensures a safe and stable water supply
The system can reduce water supply costs
Furthermore, because these water supply systems are decentralized and enable local production for local consumption, they also offer the following merits.
Construction does not take long, so the lead time from the start of installation to the start of water supply is short
Maintenance requires little cost or labor
The training necessary for upkeep and management is simple
As a secondary water supply in addition to public water supply, the system can provide a water supply lifeline that is resilient to disasters
The system can fill gaps in public water supply systems in rural or remote areas of developing countries
Applications of the Decentralized Water Treatment & Supply System
MCAS's decentralized water treatment & supply system business is aimed at realizing safe, stable water supply for everyday use, helping secure an uninterrupted water supply at times of natural disaster and supporting the business continuity of its customers.
Clean Water and Agriculture Promotion Project in Kenya
MCAS is working with the United Nations Development Programme (UNDP) on a project to supply clean water to a community of approximately 40 households in Machakos County, Kenya.
Because there is no electricity supply in the community, we installed a slow sand filtration system (a filtration system that uses gravity) that requires no power and only simple maintenance. This system purifies water taken from a nearby canal for use by the local residents. At the same time, we have developed a clean water business model whereby local residents can sell purified water to their neighbors to secure a cash income.
In addition to supplying clean water, we are focusing efforts on promoting local agriculture. By installing facilities for drip irrigation (in which water is supplied in small amounts only where needed) and reusing activated carbon previously employed in water filtration as a soil conditioner, the project is improving water use efficiency and reducing waste. With an eye to promoting traditional leafy vegetables that offer high added value but are not currently grown in the area as possible cash crops, we aim to help expand the cultivation of cash crops rooted in the area and thereby increase incomes in the community as a whole.
These efforts are helping local residents achieve economic independence and creating educational opportunities. Furthermore, through such knock-on effects as the health benefits to local residents of eating highly nutritious traditional vegetables, we are contributing to the world via the supply of water.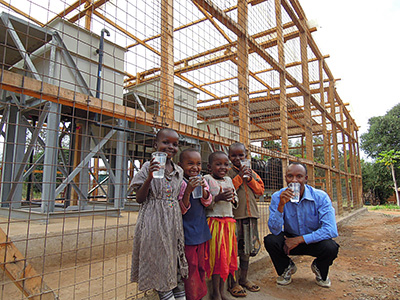 Groundwater Membrane Filtration System
Our groundwater membrane filtration system is a decentralized water supply system that uses the sophisticated membrane filtration treatment that MCAS has developed to process groundwater into safe, reliable drinking water. Used as a secondary water source alongside a public water utility, this system can provide a water supply lifeline during times of disaster. The system offers the following merits.
The system facilitates operational continuity in times of disaster, most notably at medical institutions and nursing care facilities, where water supply is essential, as well as at retail facilities, hotels, schools and other important public facilities, and at factories
The system enables social contribution by enabling the user to supply neighboring residents with water when public water supply is cut off, such as at times of disaster
Using groundwater in the course of regular operations can help reduce water utility costs
By using groundwater, which has a stable temperature year-round, the system can increase cooling tower efficiency in the summer and fuel efficiency for hot water supply in the winter, reducing both cost and environmental burden
In areas where public water supply was cut off after the Kumamoto Earthquake in 2016 and Northern Osaka Prefecture Earthquake in 2018, these systems stayed operational. As a result, hospitals that had groundwater membrane filtration systems had no interruption in water supply and were able to continue operating. We also heard from many customers that they were able to contribute socially by providing water to nearby residents.
Working toward the SDGs
Safe water is a limited resource; even those of us who enjoy its benefits every day are reminded how precious it is when a natural disaster strikes. As such, although achieving the SDG "Ensure availability and sustainable management of water and sanitation for all" will be extremely difficult, its realization will help not only ensure safety and peace of mind in everyday living for people around the world, but contribute greatly to the sustainable development of people and society.
We at the MCC Group will persistently work toward the achievement of this challenging task through innovation and global business development.