Message from the President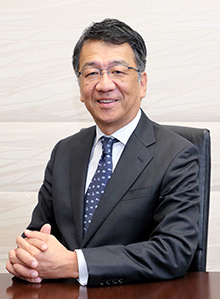 Becoming a chemical company that grows sustainably by accurately anticipating social change
The world is currently facing a number of problems unfolding on a global scale, including climate change, water resource shortages, and resource and energy issues. Also, the startling pace of progress in the fields of information and communication technology (ICT), the Internet of Things (IoT), and artificial intelligence (AI) is bringing momentous social change. Given the impending rapid changes in the business environment, we need to be able to accurately anticipate changes and respond quickly.
The Mitsubishi Chemical Group must be ready to provide solutions to the rapidly changing needs of society. By combining our diverse range of products and technologies, we will create social value and continue to grow in step with the changing world. Adhering to the highest ethical standards, we will continually seek to ensure safety and stability in our operations, thereby maintaining stakeholder trust while providing social value. Regardless of these societal changes, safety and compliance continue to be the cornerstone of our corporate activities.
In line with our vision of realizing KAITEKI, we strive to use the Group's comprehensive strengths to solve the challenges confronting people, society and the Earth. To further clarify our corporate vision, we have collaborated with our employees to redefine our mission and values. Our mission, "THE POWER OF CHEMISTRY, Saving our planet and Creating our Future together," lays out the Mitsubishi Chemical Group's purpose in society. Humanity has polluted the planet, and now we must restore it. We define our core values that underpin our efforts to carry out our mission to that end. All Group employees share this mission and values, which I hope will serve as guideposts in all aspects of the work we do.
Our greatest resource is talent. We will foster the creation of an environment and a corporate culture where everyone embraces diversity in nationality, race, religion, and culture, with everyone reaching their full potential, and we will reinforce the development of global talent and promotion of diversity. Furthermore, we have identified health and productivity management as one of the most important aspects of our management strategy. We will focus on "health support" and "work style reforms" to ensure that each employee feels fulfillment and satisfaction.
In addition to environmental issues, and amid ongoing efforts to combat the COVID-19 pandemic, society's needs are growing more diverse and complex than ever. In this time of increased expectations for contribution to the sustainable development of people, society and the Earth, the Mitsubishi Chemical Group will provide solutions that only a chemical company can to continue to grow sustainably as a truly global enterprise, THE KAITEKI COMPANY.
We would appreciate your understanding for our Group's approach to value creation, and I look forward to your continued support and encouragement.
Masayuki Waga
President & CEO