Mitsubishi Chemical in 3 Minutes
We aim to resolve the issues of people, society and our planet Earth in pursuit of a sustainable future.
Through the power of chemistry, we will save the earth and create a new future together with you.
We provide products and services to solve social issues.
Mitsubishi Chemical supplies a diverse range of goods, from materials to functional products. In doing so, not only does it support the foundations of various industries, it also provides solutions that contribute to solving a wide range of social issues.
GHG
Reduction

Food and
Water
Supply

Human
Interface

Digital Society
Infrastructure

Carbon
Cycle
Efforts to
Tackle
Social Issues
Our Main Initiatives
GHG Reduction

Contributing to the reduction of greenhouse gas (GHG) emissions

Lighter automotive bodies

Development of EV battery materials

We reduce greenhouse gas (GHG) emissions to contribute to climate change mitigation.

Carbon Cycle

Achieving a circular economy with materials that have less environmental impact

Plant-Derived Polymer

Biodegradable Polymer that decomposes into water and CO2

We are working on efficient use of resources and energy, utilization of renewable resources, and reduction of environmental impact.

Food and Water Supply

Aiding global food and water issues

Reducing food loss with long shelf life food package materials

Plant factories growing safe and reliable vegetables regardless of weather conditions

Providing safe water to the world through membrane filtration technologies

We contribute to alleviating concerns about food and water supplies.

Digital Society Infrastructure

Realizing a "smart society" through semiconductor solutions

Providing solutions that contribute to the next-generation of high-speed communication systems

Development of materials required in cutting-edge displays

We will contribute to building the foundation for the next generation of the digital society by providing semiconductor materials and related services.

Human Interface

Contributing to infectious disease control

Acrylic sheet partitions for droplets protection

Water-soluble film laundry bag for washing clothes without touching them

Contributing to disaster prevention and mitigation

Repairing and reinforcing structures with carbon fiber fabric

Groundwater membrane filtration system for dual control of water supply and groundwater, providing water even when supply is cut off

We will continue to contribute daily to disaster prevention and mitigation, and in the event of an emergency, will use our capabilities to protect people's livelihoods.
Promoting Circular Economy
In addition to developing our own technologies, we are working with a variety of partners to achieve sustainable resources and energy recycling.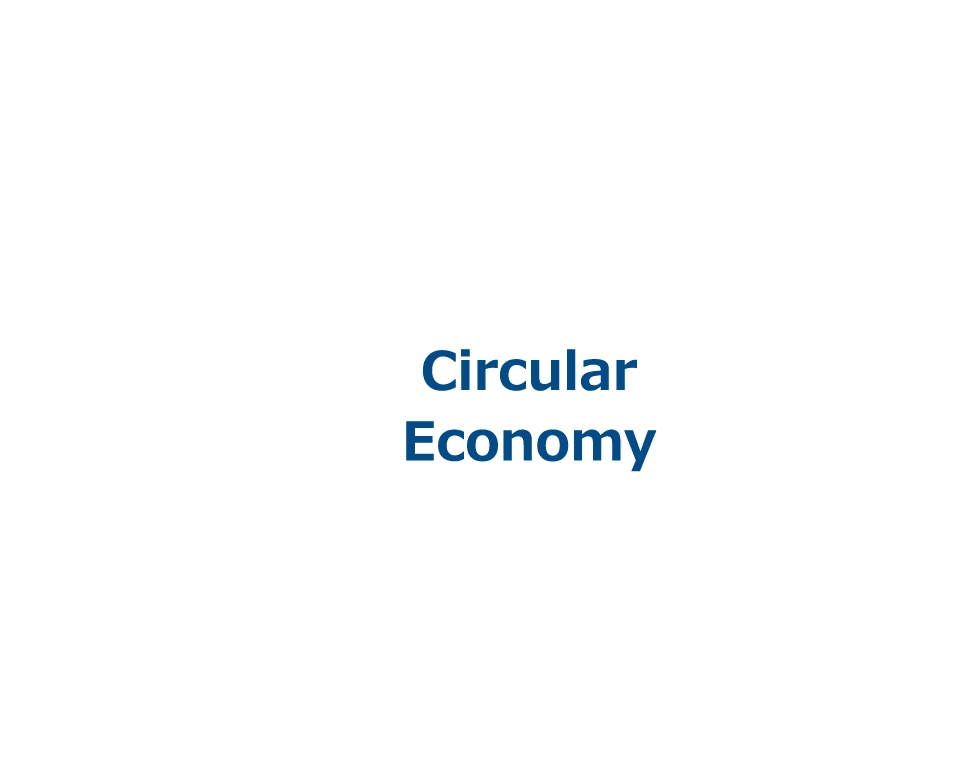 Artifical
Photosynthesis
Effective use of CO2 as a raw material for chemical products
We are developing technology for artificial photosynthesis, that uses hydrogen (H2) obtained by water splitting with sunlight and carbon dioxide (CO2) emitted from factories as raw materials for chemical products.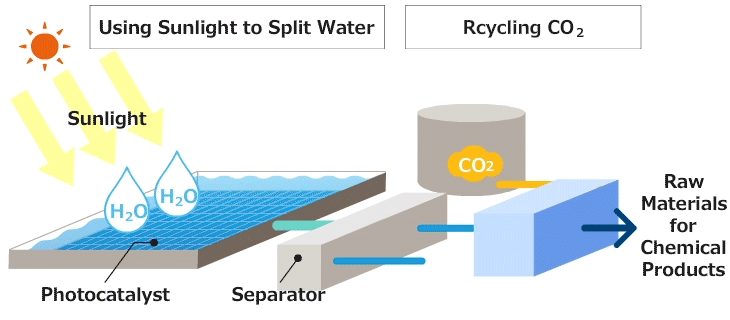 The Policy Toward Achieving Carbon Neutrality
GHG emissions reduction targets for Mitsubishi Chemical and its group companies by fisical 2030

Reduce by 32%
or more(Compared to fiscal 2019 levels in global)

Achieve carbon
neutrality

by 2050 with net zero
GHG emissions
Supporting a Variety of Industries Through the Power of Chemistry
A Range of Products
and Services
Mitsubishi Chemical's strength lies in its development and technological capabilities to create new materials.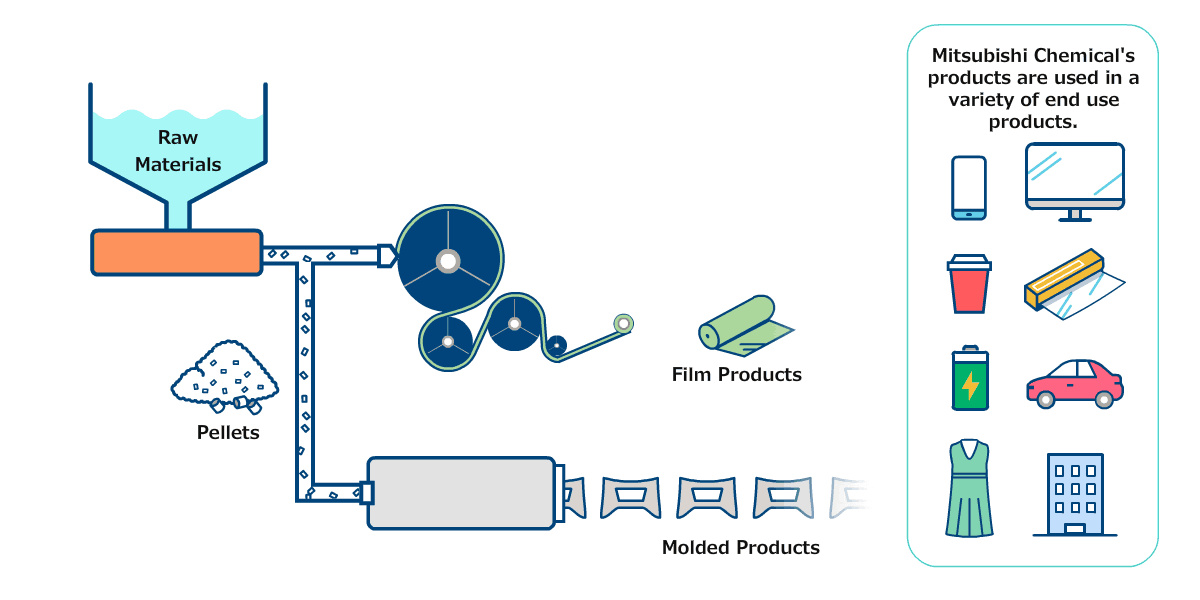 Our
Focus
MMA

Primary raw material of acrylic resin

Acrylic resin is a beautiful, clear plastic that is resistant to UV rays and is highly recyclable.

The Mitsubishi Chemical Group is the only company in the world that possesses all three MMA production methods.

Carbon Fiber

Light, strong, and superior to conventional metals and ceramics

Both PAN-based and pitch-based carbon fibers are manufactured in-house from raw materials to processed products.

>Show More

Contributing to weight reduction in automobiles

Film Technology

Multi-layered while looking like a thin sheet

Each layer has different properties, including barrier, formability, and strength, allowing it to serve a variety of functions.

Keeping food fresh and tasty

Controlling light to contribute to the evolution of displays
Business Domain of Mitsubishi Chemical
Basics
Specialities
Moldings
Solutions
Developing our business to meet the demands of the times while advancing the diversification of our raw materials, including the practical application of chemical recycling.
Basic Materials

Olefins & Aromatics

Chemical Derivatives

Carbon Products

MMA

MMA Monomer

PMMA(Acrylic Resin)
Supplying highly functional materials to the world by adding value to a wide range of basic materials.
Polymers & Compounds

Performance Polymers

Acetyl Polymers

Sustainable Polymers

Coating Material

Additives & Fine
Utilizing a variety of molding and processing technologies to provide products suitable for different applications.
Films & Molding Materials

Packaging

Industrial Films

Polyester Film

Carbon Fiber

Advanced Materials

Fiber
Creati ng new answers that enhance the various values required by the society through state-of-the-art products, technologies, business models, and ideas.
Advanced Solutions

Aqua & Infrastructure

Life Solutions

Semiconductor

Electronics

Battery Materials
We are active globally in Japan, Asia, the Americas, Europe, and the Middle East.
The Americas29

Europe,
Middle East,
Africa55

Asia74

Japan94
Founded in 1933

Mitsubishi Chemical was established through the integration of the former Mitsubishi Chemical, Mitsubishi Plastics, and Mitsubishi Rayon in 2017

> View our history